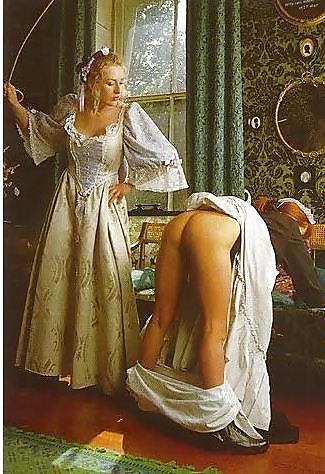 Nothing New Then!
Click the Title Below to visit the Linked Website for more Spanking Delights
Sexy Profesional Mistress in London;
Mistress Ava ia well established in the London Scene, and offers Domination services of most kinds, buit is justly famous for her accurate and hard use of the Cane. She can offer submissive girls to join in your session if and when you require. She has a small discreet dungeon for hire in London E.11., enquire for details.
THE new website listing many of the best known and newcomoing spanking girls in UK. Also index of spanking magazines and top shelf mags for your enjoyment. Look in the "London" listings for 2kings etc.
A unique map showing all the fetish venues in London plus listings of suppliers and organisers; also individual listings. Available from2kings
A world of ladies who love to cane, and beloved of many 2kings regulars. Worth a visit!
Personal advertisments from spanking professionals and others in the scene; the best way to make contacts with like minded folk. Up to date information for 1:1s and parties. You can place advertisments yourself very cheaply.
Beautiful and sexy, ex Janus model, offers a full range of switch spanking service in the Reading area. Fully equiped dungeon and playrooms available. Not to be missed!
Lovely young spanking girl in London and SE England; an excellent sexy switch!
A newer market in London for Fetish & Spanking clothing and equipment
The long running market in London for Spanking Requisites
The premiere web site for details of Spanking in London. 2kings events are usually listed here. Contains much background information and fun pages.
A Wonderful establishment for all corporal punishment. Severe Mistresses, Sexy Submissives and Electrifying Equipment.
Strictly Miss Brown is the definitive left-handed Domme in London. Wonderful accurate caning from an elegant mistress!
Spanking Sarah is a well known maker of spanking videos, and now offers 1:1 sessions in Newark and London for discerning gentlemen in need of correction.
A site devoted to enabling you to find the spanking activities you really want, in your area. Free listings of party organisers, spankees and escorts, as well as news stories and lots of pictures.
A web site which is free to advertise on, and specialises, as the name suggests, in spanking activities.
SM event organisers with strong spanking themes.
The Renowned London Mistress is back on the Scene, and as well as working occasionally at 2kings has her own specialised Fetish premises in East London and welcomes clients to session with her.
Contact Mistress Ava at eltacademy@outlook.com